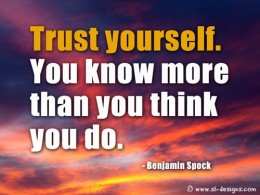 Life is a (personal) journey.
Know yourself, Love yourself, Trust yourself.
If something doesn't (feel) right to you it's probably not right for you!
Very few things in one's life should fall under an "acquired taste".
Most regrets in one's life comes from ignoring "red flags" or not listening to their "inner voice". Thus is often said:
"Something told me not to.... But I did it anyway."
It's (your) life!
Only you know what is truly best or right for (you).