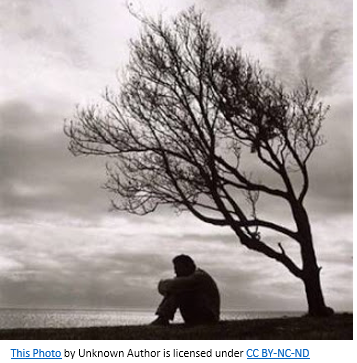 I want to keep you motivated during this final quarter of 2019 and beyond. Regardless of the festivities all around us, this time of year can challenge many of us emotionally. So today I'm sharing with you some of my recent thoughts about grief, and ways we can overcome it.
Some of you from my HR by Nnamtique community may remember that on the morning of October 24, 2017, I lost my father to complications related to Dementia. Also, on the afternoon of that same day, I lost my "Adopted Mother" to breast cancer. She wasn't really my adopted mother. She had relocated to our city and joined the ministerial staff at my church. When we met, our personalities clicked immediately. Because she had three sons, no daughter, and since I lived over four hours away from my hometown where my mother lived…I became the daughter that she never had and she became my mom away from home.
Over the next four-plus years, both Dad and Rev. C had several hospital visits and stays as they slowly lost their respective battles with two very difficult illnesses. I don't know which was worse…seeing one person whom you loved dearly lose their memory and not even know who his children and family are; or to see another suffer in pain and remain very aware of her demise until her last breath.
My thoughts of them made me consider the following about grief:
1. Each of us grieves in different ways which are very personal. Some of us choose to share fond stories of our loved ones. This manner of grieving often makes us feel better as we reflect openly with those close to us who encourage us to hold on to our memories but to honor our loved one's memory by living our life by not "dying" emotionally.
2. Some of us grieve quietly as we remember our loved one and bear the emotional pain of missing them in ways that are difficult to describe. This can be one of the most stressful ways to grieve because we internalize those feelings which often linger longer and unfortunately makes our feelings of sadness harder to shake.
3. We also grieve about different things during different stages of our lives. For many of us, as we mature chronologically, we realize how fleeting life is. By our mid-30's we will have likely lost a family member or a close friend. This causes us to value relationships even more.
4. When a relationship ends, we grieve. We get into our routine with another person, think that we're meant to grow old together, then things go sour. When this happens, we often need time to get re-centered and to find our individual identity again because we've gotten so used to being a part of a couple. So, it can sometimes be a challenge to adjust to our "new normal," whether permanent or temporary.
5. When a close friend betrays us, we grieve. We miss being able to pick up the phone and share our most personal feelings and life experiences with this person. Again, we have to adjust to another "new normal."
6. Although the word "grief" is typically associated with the loss of a living being, we can also grieve over non-living things. For instance, when we lose a job we grieve. Think about it. Most of us place great value on our careers. Not only does the salary that we earn enable us to enjoy the lifestyle to which we and our families have become accustomed, it is also a social outlet. Some people have met their spouse or best friend in a work-related setting. If we find ourselves without it one day, we will likely feel lost for a while…grieve.
7. When we interview for a new job and don't get the offer, we grieve. We get our resume and cover letter updated. We research facts about the employer. We practice interviewing with friends and family. We select the right interview attire. We arrive on time. We answer every question correctly. We even follow up after the interview, but for some reason, we still don't get the job. After such an effort, it's no wonder we grieve.
So, my message to you today is, "Grieve, but don't make grief a way of life." Whether you are grieving the loss of a family member, a pet, a job, or a circumstance, find a way to push grief further away from you each day.
I'm certainly not suggesting that you should forget what you've experienced, but by finding strength and determination from your life experience, you will heal faster and ultimately be able to move forward, instead of letting your circumstances to suck your strength right out of you.
If you've lost a loved one, the greatest way that you can honor them is to continue to be the very best that you can be by exhibiting a "never quit" attitude. If you're grieving the loss of a job or have lost out on what seemed to be your dream job, try to force yourself to think about the great things that the future holds for you. You may not be able to immediately jump back into action yet, but I challenge you to plan for your comeback. Journal to get your feelings of sadness and defeat or hopelessness out in the open. Write yourself a letter of encouragement. In that letter, congratulate yourself for hanging in there and tell yourself that you will emerge from this season of grief a victor. If you know someone else wh0 is facing a life challenge right now, call and encourage them. I guarantee that, at least for a little while, you will focus less on your troubles as you do your part to help another person emerge victoriously from their challenge.
You deserve it. Live!