I have tried both. As a tourist, I sometimes need a break and a fully serviced resort with everything layed on is the pampering I need. As a Traveller, I might plan half a trip on the internet and then navigate the local transport, accomodation and activities, this is far more rewarding. It helps to take at least a short course in the culture and language before making the trip.

I think there is a different fitness level required for these options and we all have our ups and downs, I would like to keep travelling, but I would settle for being a tourist.

I was travelling in Freemantle, Western Australia and took a tour to the old prison. I would call this a touristy thing to do, but I still get a great memory.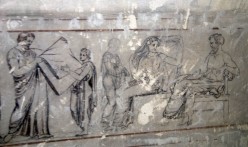 (This picture was taken at a visit to Freemantle Prison. These drawings were discovered after the prison discontinued operation, under the whitewashed walls of a cell. James Walsh was a 19th century forger, he used charcoal and would draw on his cell walls at night and cover over his artwork before it could be discovered in the morning. Every wall of his cell has scenes like this.