sort by best latest
To me, having an "unblemished" or "perfect" work record implies that you've never taken a risk. It's easy to be non-controversial if you never take a strong position. That can be interpreted as being either wishy-washy or untested.
Not necessarily the case.An unblemished &perfect work records means that the person is a great employee.Employers LOVE such employees & WANT them as they aren't deemed problematic.No employer wants an employee w/a blemished/imperfect record!

---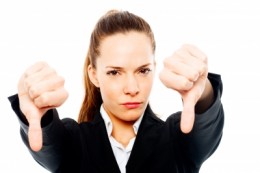 In order to be highly successful especially in the corporate sphere, one must have an unblemished, even perfect work history and record. People with blemished and imperfect work histories and records really don't go so far in the corporate world. Such people are viewed as flawed, even damaged by superiors and bosses. They are considered not to have what it takes to become successful, especially if they are considered for high powered and leadership positions. Who is going to follow such a flawed person-NO ONE. Employers want to promote people who have provability which translates into that they must be perfect and unblemished as people tend to follow those who are deem as perfect as possible so the former have someone to look up to, even emulate.
Also people with imperfect and blemished work records are seen as damaged goods, failures, even losers. They are considered not success material by prospective employers who in all likelihood won't hire them because of the negative image of failure. While we are on the subject, people who have been fired from their jobs, not downsized nor laid off, are less likely to be highly successful because of their negative work record. People who are highly successful in most cases have NEVER been fired from any job and have experienced levels of success in the workplace. Also, being fired from a job is a stigma which will follow that person wherever h/she goes. It will be difficult for such a people in light of his/her firing to obtain a job and if h/she gets a job, h/she will be treated and perceived to be a failure. Also, there is a higher likelihood, h/she will also be fired from the present job as h/she was in the past job and the cycle continues. H/she will probably become unemployable or merely settle for crappy jobs.
Your comments are typical of the 30something group. If your career that covered 37 years, not counting the after school job in high school or the dish washing job and never made a mistake is not accurate. People learn from mistakes. Perfection is har

---
The issue is, what is an unblemished work record? Some people change jobs, "looking for greater" challenges when, In fact, they fear they are on the chopping block.
Constant perfection is hard to achieve. When I was hired for my last real job, in 1982, I was interviewed by a large committee. I knew the person I was replacing. He died about a year earlier. I told the group I had a good knowledge of the industry, a strong writing and research skiills, but I was not an outgoing person like my predecessor. It was that statement that started the questions, which I were able to answer and got me a job. I went without references, because I was not ready to tell my current employer, I was looking. That action falls into the "don't burn your bridge's" category.