sort by best latest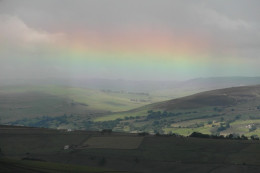 Taking the question both literally and metaphorically the answer is yes frequently and I'm sure it will happen often in the future. I live in rainy Lancashire and it's usually raining stair rods here. You'd think that would mean I always take a raincoat or brolly with me, but no. I'm either a slow learner or I just don't mind getting wet.
On the plus side - I get to see lots of rainbows, such as this one seen from Pendle Hill after I'd got soggy.
About two months ago, I got completely drenched while out for a walk. I loved it, and took my time coming home. I can't say that the friend who took the walk with me was as happy.
When I go for a walk, I walk, rain or shine.
And I love swimming in the ocean in the rain.
very often and it usually sends me into a fit of laughter because I run for cover like a crazy person....and I'm sure it will happen again!