W00t. About blinking time.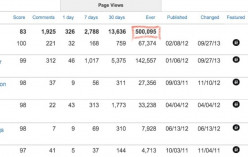 I wonder how much sooner I would've gotten there if I hadn't removed all my old hubs in 2009 or so after the two outbound link limit flagged me as a spammer because of my image credits. (It wasn't until years later that I learned what had tripped the flag. At the time, I had very bad experiences with childish commenters writing random obscenities on hubs about ancient Greek art and myth, and I thought it wasn't worth fighting filters on a platform that wasn't attracting visitors who actually read my articles. I came back and started over in 2011.)

Interesting note: I screencapped and annotated the above image, then used the forum's image upload button, from an ipad. I appreciate very much that HP is fully tablet-compatible, so we can ditch our laptops and write hubs on trips if we choose.

ETA: the uploader shrunk the picture. Milestone is 500,095 lifetime visits.