We all seem to agree that labeling EC hubs in the Related Hubs is unfair punishment to those who have opted out of the program.

Equally important however is the fact that many of us have opted out because we refuse to have our best content removed from our sub-domain to populate mother hubpages.com.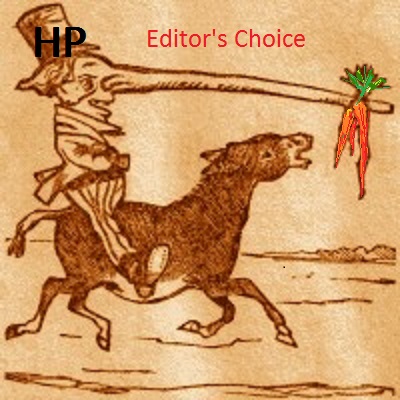 The whole EC program has been sold to authors under false pretense:
HP management is trying to make us believe that a hub is being awarded Editor's Choice status for its "superior quality", that having EC hubs is a great "honour", worthy of special promotion. But the special promotion is promotion of mother site hubpages.com, not promotion of our own sub-domains.

It is now perfectly clear that, in reality, the true motive behind the EC program is to remove the cream of subdomains, the hubs deemed most financially profitable, away from sub-domains to populate mother site hubpages.com.

Furthermore, the whole EC program has been sold to authors in a coersive manner by having all hubbers opted into the program by default rather than opted out by default and asking us whether we would like to join or not. Despite this, not enough cream was obtained, so we were offered even more incentives to join in the form of accolades, a chance of winning money, and being eligible for Hub of the Day. Why are non participants no longer eligible for Hub of the Day? Another form of punishment.

Then Cardisa had the good sense to notice that those of us who still refused to join were suddenly additionally disadvantaged in the Related Hubs section. That was the last straw.

Mother site hubpages.com does not seem to care for her children anymore. Mother hubpages.com is giving herself privileges over and above individual sub-domains.

The blunt refusal by staff to return Editor's Choice hubs to their sub-domains is living proof of the real motivation behind the program. Its only raison d'être is to give mother site hubpages.com some otherwise non-existing content.

Had they explained this right from the start, and managed to persuade us that the procedure was best for the site as a whole, some of us might have willingly opted in. As it stands, the entire EC program has turned into a dishonestly presented experiment, the success of which still hangs in mid-air as per the following quote from Paul Edmondson:
Right now, i don't see a clear winning strategy with our current content mix.

What aggravates me most of all is that we are being enticed, treated like kids who cannot draw our own conclusions from clearly given facts. Are we really that stupid? I don't think so.