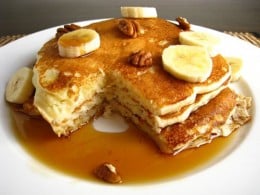 How about some delicious Banana Pancakes with Peanut Butter And Jelly Syrups

1. Two Cups Bisquick Biscuit Mix.
2. One Cup Buttermilk.
3. One Cup Well Mashed Ripe Bananas.
4. Two Large Eggs.
5. One Teaspoon Ground Cinnamon.
6. Three Tablespoons Butter.
7. Three Fourths Cup Maple Syrup.
8. One Fourth Cup Creamy Peanut Butter.
9. Strawberry Syrup.

Whisk together the first five ingredients in a large bowl until the dry ingredients are moistened and mixed together well into a batter.

Cook your batter out onto a grill you have melted butter on.

In a blender mix together your maple syrup, peanut butter and the strawberry syrup and mix it together well. Pour out into a serving bowl and put a large spoon in it so people can ladle syrup over their pancakes.

Garnish the pancakes with slices of banana and half's of pecans.

I guarantee you that people will love these pancakes and they are really delicious.