Greek One wrote:

http://images.sodahead.com/polls/003152 … large.jpeg

Now That Is A Low Blow!

It brings laughter in a time BO (the Pres. dog),
Is learning to play the fiddle so he
can fiddle as America aka the "Obamanation"
Burns and the crafty militias prepare to engage
what may very well create a north and south nation.
The 8 years of Clinton, the 8 years
of Bush now add this short administration of an
elected CEO, often referred to as a leader, that
actually works for the tax payers/voters,
scares the crap out of me and I'm fearless!
I am non partisan, never voted a straight ticket in
any election and will vote against every incumbent
in this election, hope to see a congress and house
changed that will do more than pay themselves.
So far the president has been accused of being a
puppet and following a hidden agenda,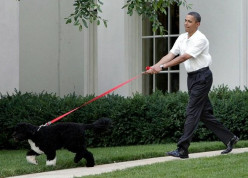 (photo courtesy of Google)
turns out the culprit is BO! A space alien who took the
form of the New Presidential Dog that drags the president
to the golf course to chase balls keeping the president from
being able to attend his morning briefings. and other things,
like chasing basket balls, I have to say the dog "BO" will charge
left, right, or center for a "Scooby Snack" and causing an image of
the president at more golf and basket ball playing than tending to
the issues of the board of directors that is the largest board in the
world, registered and voting. The board of directors need to be changed
to those who could still see and read and write to their Representatives
and Senators urging them to work with the man toward a goal of repair,
that helps the USA before any Billions of dollar super packs gathered from
our seriously, precarious state of financial bust of a catastrophic denial of
other countries refusing to accept our currency to settle our debts.