@ Jean, Exactly, abortion is necessary. Birth control isn't 100% effective. Why should girls & women be penalized w/an unplanned, unwanted pregnancy? Why should their lives be curtailed? It is far better & more humane to have an abortion than to have an unwanted child that will be unloved, even abused. Unwanted children are more likely to be abused, ever neglected. Pro-lifers never thought of this. OH NO, they would rather stick their intrusive noses into other's lives. Interview unwanted children & ask what they went through- they wish that they were aborted from the cruel treatment they received from their parents. My second youngest aunt had an unplanned & unwanted pregnancy & RESENTED the child. The child NEVER lived w/her once she got married-she had TWO other daughters whom she doted on. The child was raised by my grandmother. My aunt only had a cursory relationship w/the child in question. If she can afford abortion, she would have aborted, went to college, & had a career.

Addendum: smart girls & women if they have unplanned, unwanted pregnancies, have abortions because they know that having an unwanted child is taxing in more ways than one. Only those who don't know better & aren't so intelligent endure unplanned, unwanted pregnancies & have unwanted children, making their situation much worse than it is. Thank God for Roe vs Wade. Proactive, intelligent, educated women want to be in charge of their bodies, only passive, unintelligent, uneducated women refuse to take responsibility for their bodies & let things happen.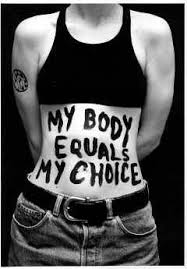 P.S. Jean, Jackie didn't lead a sheltered life. She staunchly, even vehemently believes that if a girl &/or woman gets pregnant, she ought to endure the pregnancy whether she wants to or not. Jackie is also from a large family & women from large families, with very few exceptions, aren't about abortion. Some aren't even about contraception. They are also the ones who become pregnant as teens as my two aunts did. In my high school, the girls who became pregnant were the ones from large families. They endured the pregnancy, had the baby, & never finished school. We from small families knew & used birth control & had no teen pregnancies. My 3 cousins who part of a family of 8 children also were pregnant as teens & none aborted. They didn't use birth control either.

Jean, in large family household, sex is equated to procreation only. Any mention of contraception is prohibited. In large families, girls are strongly inculcated to be wives, mothers, & in subordinate roles. They aren't taught to pursue education & to have careers. Jean, girls & women from large families are different entities from us women from small families. I have observed this firsthand. TRUST ME, I KNOW WHAT I AM TALKING ABOUT. I read a book about family size 2 decades ago which stated that women from large families have a more passive attitude towards family planning than women from small families who are more proactive. The attitude of women in large families is that if they got pregnant, they will just have the baby. See where I am going Jean.