Hi promisem, my answer to his question would address two points; that of "need," and the determination of "assault rifle."

The "need" part seems easy to me. The point is about a defined Constitutional Right, not someone's determination of need. If someone never ever spoke out in protest or support of anything, why would they "need" a Right to free speech?

Tied in with that is the determination of what an "assault rifle" is. And I am not addressing this as a matter of semantics or perception, (like those who equate it to the definition of porn). This has been discussed to death, but I haven't seen any anti-assault rifle positions that were based on anything but perception.

The facts I accept are that an "assault rifle" is specifically a military-grade weapon, unavailable to the public in general. Another that I perceive to be a fact is that anti-assault rifle folks accept any semi-automatic gun that looks like, (as in scary), an assault rifle to be one.

This first image is a typical "kid's" first gun. Used for learning, target shooting, and varmint hunting.
It is .22 caliber, has a 16 - 25, (approx.), bullet, tube-load capacity, and fires one bullet per trigger pull.

Is this an assault-rifle to you?




This second image is also a .22 caliber, looks to have an approx. 20-round magazine, and also fires one shot per trigger pull. It has the exact same fire-power and firing rate as the "kid's" gun above, but I am betting most folks will call it an assault rifle.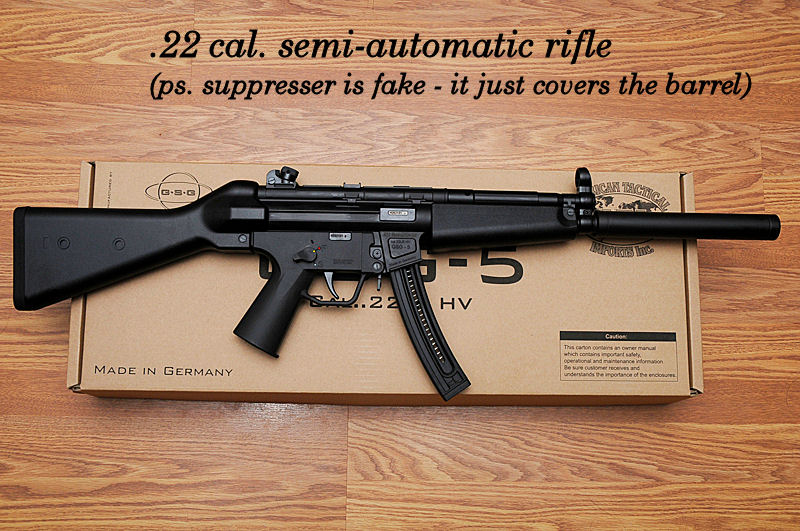 Two shooters standing side-by-side would have the exact same power of the weapon in their hands.

So, which gun do we ban? Which gun is the assault rifle no citizen "needs?"

GA