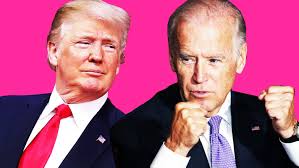 House speaker says --"Trump would 'belittle' the presidential debates"
Pelosi says Biden shouldn't debate Trump: "I wouldn't legitimize a conversation with him"

"House Speaker Nancy Pelosi suggested openly Thursday that former Vice President Joe Biden cancel his three scheduled debates with President Trump because the commander-in-chief would "belittle" the forum and engage in "skullduggery."

However, Biden has another plan--- Biden told MSNBC Thursday he's still planning on showing up to the high-profile faceoffs with the president.

"As long as the [debate] commission continues down the straight and narrow as they have, I'm going to debate him," Biden said, adding that he'd call out any Trump lies in real-time.

"I'm going to be a fact-checker on the floor as I'm debating him," he added.

I am with Nancy -- Biden should save himself the trouble and just bail on the debates. In my opinion, Trump will have an open field to batter him badly, and all the fact-checkers in the world will do little on a live debate, millions will walk away from it believing what they choose, and never check what fact-checker have to report.

Trump uses "rope a dope" tactics and clearly takes off the gloves for no one, as proved with his debates with Hillary Clinton. There is no time for on the spot fact-checking in a live debate, as Joe seems to believe he will have that opinion. In my view, Joe ended himself in his basement with his inappropriate live gaffes, not to mention his affinity to become angry quickly. He can't use COVID to get out of the debates, but he can take a page out of Nancy's book and claim Skulduggery...

If I were Joe, it might be safer to stay in that basement.

Do you think Joe Biden should debate President Trump why or why not?