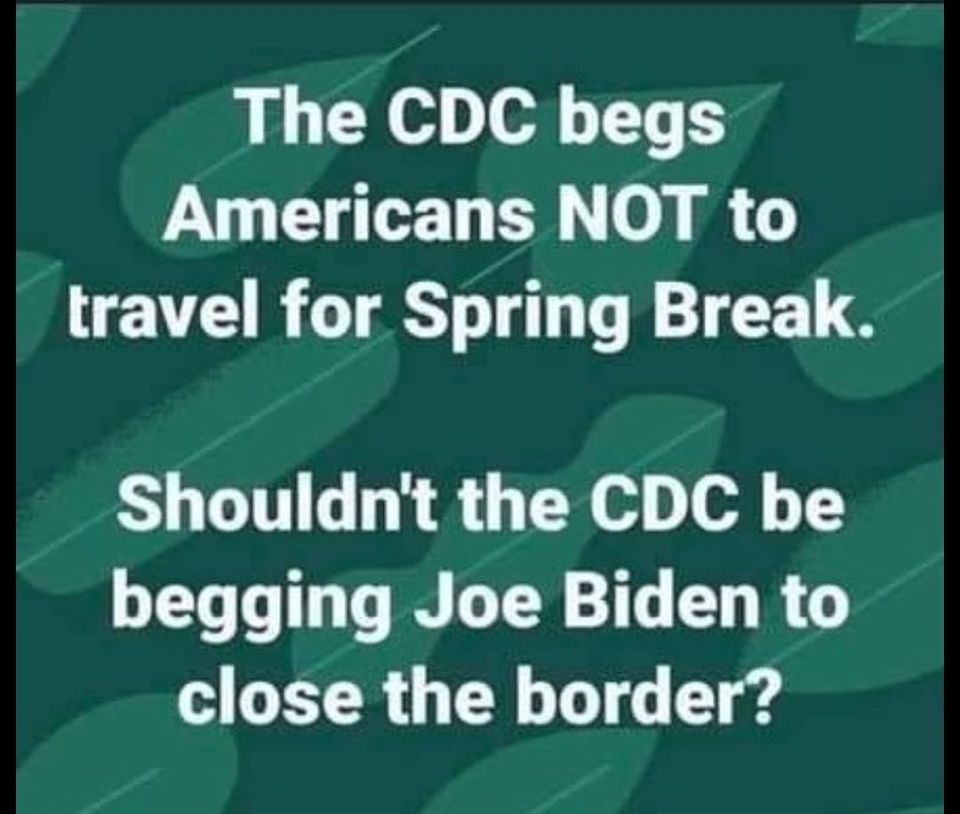 Hey Joe it seems you have lied about it the numbers once again ----. It is now evident immigrants are pouring in in historic numbers. But Joe says, No these numbers are normal for this time of year.

This is a ploy Joe uses frequently --- say it, and it will become truth. One only needs to hark back to Joe's one-liner --- "We listen to truth, not facts."

Border officials encountered 172,000 migrants at the border in March, a 71% increase from February and the latest indicator of the extent of the crisis at the southern border.

The numbers being encountered at the southern border during the Biden administration are not something that happens every year. Over 172,000 migrants were encountered in March, the highest number in nearly twenty years. While many were single adults, that number included 19,000 unaccompanied children -- a 100% increase from the already high numbers encountered in February, and the largest monthly number ever recorded.
https://www.foxnews.com/politics/biden- … nistration

It appears Biden does not recognize a huge problem or does he just not have the know-how to address problems. And won't Biden ignoring the problem at the border lead to an increase in the spread of COVID and its four new strains? The CDC has asked Americans to be visual, and not travel or even consider Spring breaks. So, why is Biden not handling hundreds of migrants pouring in daily at our southern border?

Apr. 2, 2021, CDC --- Not much media on these new variances of COVID.

B.1.1.7: This variant was first identified in the US in December 2020. It was initially detected in the UK. and is now 33% of cases in the US.

B.1.351: This variant was first identified in the US at the end of January 2021. It was initially detected in South Africa in December 2020.

P.1: This variant was first detected in the US in January 2021. P.1 was initially identified in travelers from Brazil, who were tested during routine screening at an airport in Japan, in early January.

B.1.427 and B.1.429: These two variants were first identified in California in February 2021 and were classified as VOCs in March 2021.
https://www.cdc.gov/coronavirus/2019-nc … riant.html

Where is Joe with his mask pep talk, and some info on how he will handle all this brand new crisis due to the new variances? He said he was going to have the country open by the end of April. These worldwide new strains are known to spread more quickly than the original COVID 19.

America is in trouble with no one at the White House.

Is Biden following the science due to letting migrants pour across the border, many not being apprehended and just disappearing into our Country? In my view, Biden has abandoned his promise to follow the science. " I will follow the science!" Joe Biden


Were you aware of the four new variances of COVID? I was aware due to checking the CDC site frequently. As it is apparent one needs to do, they change their information frequently.

Is Biden a habitual liar? It would seem he lies very easily instead of just accepting the truth as fact.