Thanks again, Mr. Williams, for sharing your thoughts with me. I appreciate your saying different historians view history differently and, further, that President Carter was a poor negotiator. Unfortunately, you do not offer any examples by any historians that support your recollection of events or any examples that disagree with the events I brought to your attention. Hence, your conclusions appear to be just your unsupported opinions.

However, I think you changed the subject and avoided the essence of my comments in the process. You suggested President Carter was soft on terrorist: Instead of showing us how he was comfortable with the hostage crisis, you criticize his ability as a negotiator. I supported my view that he was very uncomfortable and, in fact, he went to great lengths to free the hostages. You seem to deny that he tried and go on to criticize another president's administration without any mention of the intervening president who promised us he would bring justice to Osama Bid Laden but failed to deliver.

Here are the words of a President I consider "soft" on terrorists:
"The most important thing is for us to find Osama bin Laden. It is our number one priority and we will not rest until we find him."
- G.W. Bush, 9/13/01

"I want justice...There's an old poster out West, as I recall, that said, 'Wanted: Dead or Alive,'"
- G.W. Bush, 9/17/01, UPI

"I don't know where bin Laden is. I have no idea and really don't care. It's not that important. It's not our priority."
- G.W. Bush, 3/13/02

Furthermore, The Washington Post reported that the CIA unit dedicated to capturing bin Laden was shut down by President Bush in late 2005. (1)

Are these also versions of history, Mr. Williams, you would like to deny?

Finally, on May 1, 2011, another president delivered justice on behalf of the American people. Meanwhile, you are deceiving yourself, and us, when you say, "Even now, under Mr Obama, the terrorists know that they can get away with anything they want without fear of reprisal."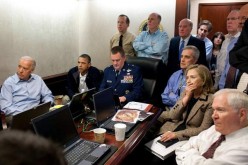 (1) http://www.washingtonpost.com/wp-dyn/co … 00375.html