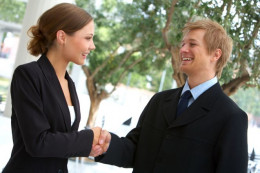 There are two many variables to determine if a handshake might be something more. Difference in cultures and upbringing affect our interpretations of other people's behavior or intentions.
Some give a limp handshake, some give a firm one, some make it quick, and others hold on. I imagine the best way to read it is by observing them shake other people's hand in your presence.
In other instances it's not just about the handshake but also the level of intensity with their eye contact while shaking your hand. A lingering handshake squeeze coupled with peering eye contact while flashing a smile might come off as flirtatious.
Another technique sometimes used is the person uses a two handed handshake. One grips your hand and the other covers/cups the back of your hand while shaking hands.
However as I stated the only way to tell if there was anything intended is by observing him shake other men and women's hands.
In the mean time I wouldn't give it much thought. There is too much opportunity for misinterpretation or possibly projecting one's feelings on another. Very rarely is a handshake a tale tell sign of romantic interest. People today are much more obvious than that.