Of course Hell is real, there are instances:
(1) Concentration, labor & gulag camps where people endure beyond inhumane conditions e.g. being starved or fed the absolute minimum, living in primitive conditions, barbaric work conditions oftentimes to exhaustion/death, being subjected to the arbitrary dictates of those in charge, & turning humans into predators..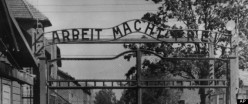 (2) Parents who knowingly have children they know they can't take care of &/or have far more children than they can provide a decent quality of life for. Such children grew up impoverished, without the basic amenities & opportunities. They must often depend upon outside assistance either through churches, charities, more affluent relatives, &/or the government. These children don't have normal childhoods as they are forced to be adults beyond their years because of selfish parents who don't care about the ramifications of their actions on their children.



(3) People who are ostracized, bullied, & otherwise persecuted because they refuse to adhere to the respective paradigms of their respective sociocultural, familial, religious, &/or socioeconomic group. There are subsets of these groups which have mandated & unspoken paradigms which are to be adhered to. In essence, these groups have their own culture & ways of doing things. However, there are those who refuse to adhere to such paradigms, wanting to establish their own primacy. In some cases, they are viewed as oddities & methods, either covert or overt, are instituted to make them conform. Those who rebel against such paradigm strictures, endure bullying or worse marginalization by their respective group.