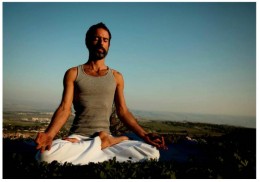 Meditation is focus, and doing so beginning with a persons breathing & simply being controlled by that of the mind, while inwardly and outwardly remaining focused only on one general theme, in attempts to clear ones mind.

After each inhale and exhale meditation takes its shape, and true form only if the mind can begin to clear itself of clutter. Clutter meaning that which has mentally been blocking the mind in terms of random thoughts, any kinds of thought processes etc...

Meditation is spiritual balance between the focus of the mind, and that of the environment as well as stabilized heart, lungs, and all of your outer extremities.

It also is a form of enlightenment or becoming one with everything, it was established by many eastern philosophers, and spiritualist such as the Buddha or Siddhārtha Gautama from India (Considered by many in his time to be the 'Enlightened One', and worshiped as a god by countless others of his followers.)

The art of Zen was one that I studied many years ago, and it take the mind down a road of nothingness, or the claim of achieving ultimate enlightenment by confirming to oneself that everything truly is nothing, and the mind must adhere to such to understand such a in depth focus as Zen underlines.