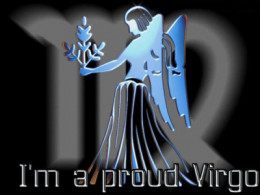 I'm REPRESENTING! I am a VIRGO. I can be highly analytical. I love intelligence and have a very low tolerance for mediocrity. I also do not suffer fools gladly and will call them out on it. Virgos can be highly critical, especially if things DON'T meet their standards.

Virgos have high standards regarding anything they are involved in. They are highly discriminating people. However, they sometimes underestimate their potentialities and talents. Many Virgos feel that they are not good enough although they are quite superlative. Many Virgos prefer to be in the background, perhaps because of confidence issues.

Virgos can be highly critical and exact regarding themselves as well as others. Virgos have a phenomenal work ethic. Yet they also prefer to be the power behind the throne, helping others to succeed although they have the TALENT to reach the heights. Virgos are oftentimes the underappreciated and/or unappreciated worker whose reward for good work is MORE WORK. There are some Virgos who are excellent at passive aggressive behavior, playing the martyr instead of being more assertive regarding expressing their needs.

Virgos have to realize that they are jewels. They have to be seek their just rewards, even demand it. Yes, the lesson for Virgos is that they have to learn to appreciate themselves, their talents, and to toot their own horns, if necessary.