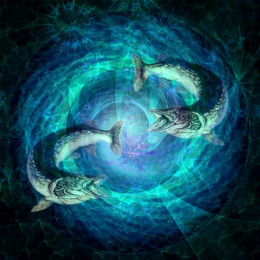 Pisces IS:
(1) Highly creative. Pisceans are the most creative people in the zodiac. They just ARE. They refuse to be constrained by societal and artificial boundaries as to how to do things. They THINK OUTSIDE THAT BOX!

(2) Very spiritual. Pisceans can be described as quite unworldly. They are attracted to aspects beyond the physical. They have some type of unity with the Higher Being whether it is God, the Universe, or Higher Consciousness. They can be aptly described as spiritual instead of religious.

(3) Mysterious. Pisceans love to keep certain things to themselves. They love to exude that mysterious air.

(4) Nebulous. Pisceans cannot really be defined. Who are they really? Well, who they are change from moment to moment, even from second to second. They are beyond definition. They .....ARE pure and simple.

(5) Negative. Pisceans can be negative. In fact, they can be the NEGATIVE of all negatives. If upset or sad, they can take depression to another new level. No one can be negative like Pisceans, not even Capricornians.