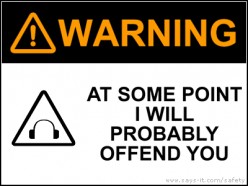 I pity you. It fasinates me how fanatically christians attack homosexuality. Did they get groped and fondled as a kid? Did they ask god to send them a beautiful woman and all they got was a cute guy?The problem with such insulting behavior towards homosexuals by christians is it shows that most desperately want to be gay. An online ad isn't the best way to find happiness, find a gay bar and be yourself for once.

That was intended to be of humorour interest to those who find it funny. Any resulting shootings that occur because of it is not my responsibility. Fox News is hereby granted permission to quote me.

I am not sure how the OP was an insult to christians. How is it that anyone who questions faith, theirs or another's, is attacking christians. Questioning is not attacking, it's questioning. I don't suppose that your all seeing, all knowing, personal spaghetti monster is supprised when his plan comes to fruitation, right. If he has a plan for everyone, it was obviously in his plan for my last sarcastic remark to appear. If all atheists and those with questions suddenly stop asking those questions, don't you think you personal version of the CEO of the ACME Company (see roadrunner cartoons from back when god was still in school at least here in USA, they have something for every situation that's quaranteed not to work) is goin to be a little pissed that we didn't follow her script.? It is only by responding to out bursts like this that you are able to reafirm in your mind how superior you are to most who still retain the ability to think for themselves. I am often amazed at the number of people who after giving up their right to independent thought are suprised that not all are interested in the holier than thou christian lifestyle you so desperately cling to. Oh and by the way, this was not a personal attack on any one person. I'm just in a great mood and wanted to take it out on someone, thanks for making it easy to choose my victim with out the use of a graphically presented target pasted over your likeness.. Peace everyone, hope everyone has an average day. I've strung to many good days together and need to return to mediocrity for a little while.