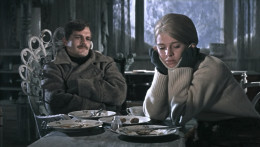 The majestic beauty of this wonderful season. Winter is a season of stark contrasts. It is also a no frills season. Everything is laid bare and raw. It is a winter of coolness, even iciness.

It is also an invigorating season. There is nothing like winter to make one physically, emotionally, and mentally hardy. The coldness and crispness of winter is such a beauty enhancer. The cold air does myriad wonders for the face, acting as a natural astringent. Winter can be the excuse to indulge in more rigorous activities to burn even more calories so one can guiltlessly indulge in more decadent desserts.

It is also a time to retreat into the warmth of home. There is nothing like being nestled in a warm, sumptuous bed with a rich, hot chocolate drink on a cold winter's night with either a good book or watching a good movie, preferably a scary one. It is also a time to really catch up on things one wants to do, perhaps to rest up, and/or simply just do nothing for a bit.