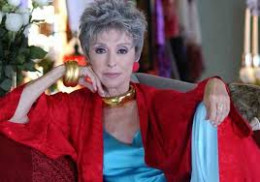 The time when women 60 & over aren't considered to be attractive is ancient history. Up until the middle to late 20th century, particularly in the United States, older, even middle aged women, were thought to having lost their physical & sensual attractiveness. They were considered to be nearing &/or over the hill. This negative stereotype of the older woman was Norma Desmond in the movie SUNSET BOULEVARD. She was considered washed up by Hollywood; however, she refused to believe such & INTENDED to make a comeback. Older, even middle age, women were portrayed in Hollywood & seen in society as a hag, even a jealous/embittered hag or a sexless nonentity. The message relayed by Hollywood & society was to ACT ONE'S AGE, YOUR TIME IS GONE.

Since the late 1970s on with Toni Tucci, author, a pioneer of the emboldened, attractive, & sensual older woman, the old, atavistic stereotype of older women as sexless nonentities or embittered hags were a thing of the past. Also with the feminist movement, older women realized that they still had things to do. They furthermore realized that age did not preclude being attractive & vital. Older women were becoming more proactive in all aspects of their lives. They were no longer adhering to inane societal rules as to what older women are, how they should act, & what they should do. In essence, older women had a BRAND NEW BAG.

Older women adopted a new, fresh attitude as to what old is. They refuse to resign themselves & to wait for death. Oh no, they view old age as yet another evolution in their life's quest. Many women 60 & over are reinventing themselves mentally, emotionally, physically, psychologically, & spiritually. Being old means being involved & engaged in life. God, I should have written a hub; well, I just might do this. There is two types of older women- the OLD old who sees 60 & over negatively. They act & think OLD, living in the past, wishing for their youth. Then there is the NEW old who views 60 & over as just a number. They intend to explore, grow, experiment &......BE.