Every year, SearchMetrics produces an exhaustive report on how various 'ranking factors' for webpages influence where they appear in organic Google search results.

The report is designed to give an insight into how various aspects of a webpage correlate to a better position in search. They analyze tens of thousands of search terms and hundreds of thousands of results to find the factors that contribute most (and least) to good placement.

You can download the entire (80 page plus) report here: http://www.searchmetrics.com/knowledge- … g-factors/

Here's a graph of the main factors: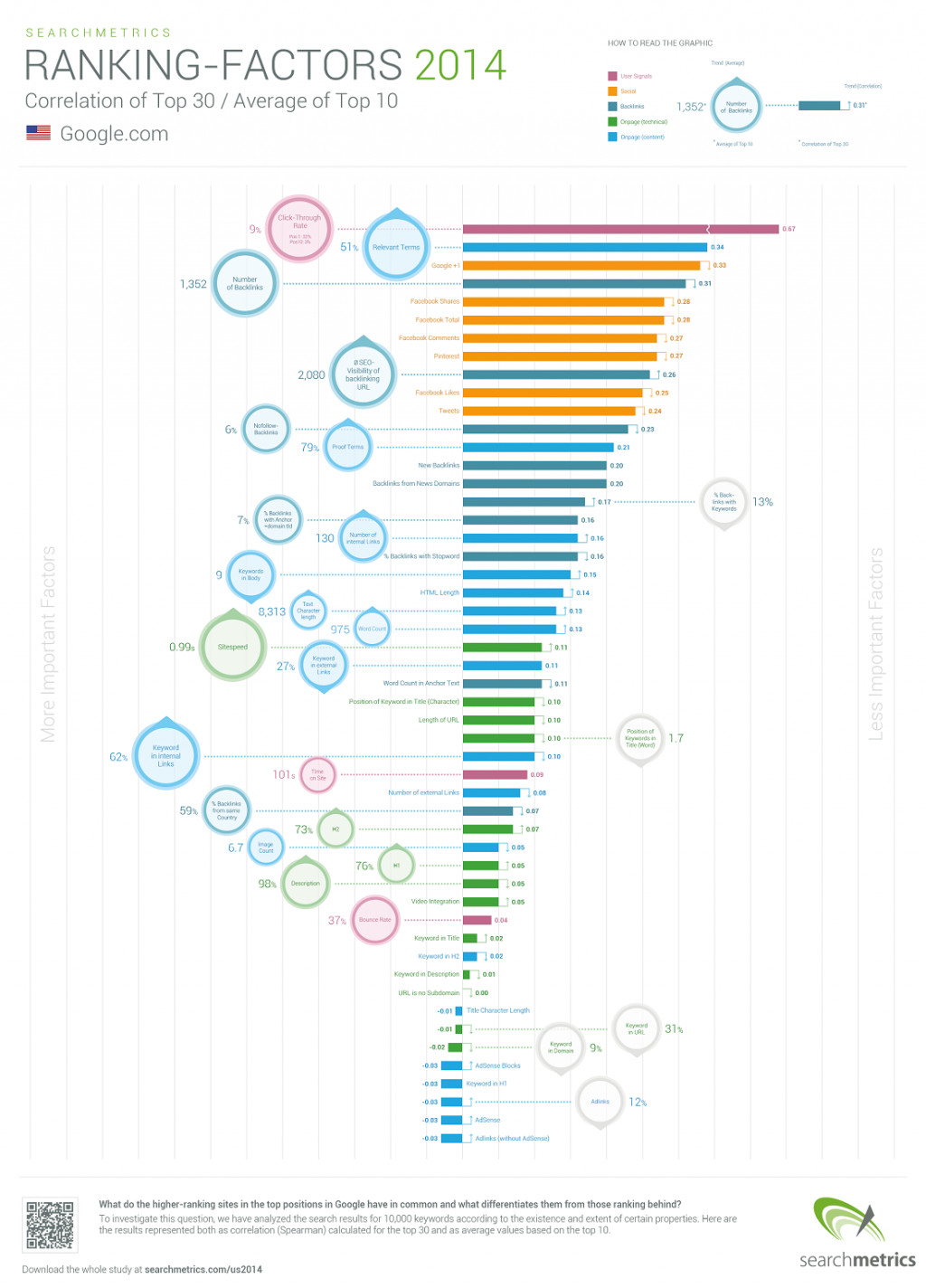 You can also see a very informative Infographic of the main factors here: http://www.searchmetrics.com/wp-content … s-2014.jpg

If you'd prefer not to read the whole report (not everyone is as fascinated by obscure stats and analysis as me), the summary is below, together with my brief thoughts on each one.

Our results yielded a need for greater emphasis on high quality, relevant content, technological features, backlinks and social signals. For the first time, we have analyzed the most important user signals as well.

- Content: High quality, relevant content ranks better on average, and is identifiable by properties such as comprehensive wording in regard to the co-occurrence of related terms in the context, a higher word-count and media enrichment.

What can HP authors do?
- Generally, more words are better, provided they are relevant and add to the topic
- Do not stuff with keywords; write naturally
- Include other media such as images and video where it makes sense
- Aim for original research or an interesting approach to a topic


Technology: A well optimized technical performance of a page contributes to a good ranking, such as, robust site architecture with an optimal internal linking structure, short loading times and presence of meta tags.

What can HP authors do?
- Don't include masses of images as these can slow loading times
- Think about hiding the older comments if the comment counts are becoming too large
- Link internally within your hubs to other relevant hubs
- Link to other hubber's hubs
- Make sure that all of your hubs have good titles and enticing descriptions


Backlinks: The quantity and quality of backlinks remains crucial as there are many new features introduced this year that have been revised to improve the quality of the results.

What can HP authors do?
- Link between your hubs
- Link to other sites (inside and outside HP) that have authoritative content related to your subject
- Comment on other articles / blogs / communities / content and include a link back to your hub if it makes sense and adds to the discussion (note that you are not allowed to do this on HP itself or hubs hosted here) - Also, be careful to avoid spamming links
- Look into guest blogging; although it has partly fallen out of favor with Google, you can still create good backlinks if you don't oversaturate and choose to write for high quality blogs


Social Signals: The correlation values regarding coefficients out of the social sector have slightly decreased. The growth of the average total number of signals per position was rather small.

What can HP authors do?
- Post your work to the various social networks where it makes sense to do so
- Networks include: Facebook, Google Plus, Twitter, LinkedIn, Pinterest, StumbleUpon, Tumblr and more
- Write good titles and descriptions to encourage people to share

User Signals: For the first time, user signals were measured and as expected there is a relation between rankings and higher click-through rates, lower bounce rates and a high time-on-site.

What can HP authors do?
- Click Through Rate was the highest correlated factor; this means that if your site shows up in search, would a user click on it? You can influence this in several ways:
- Write a great title for your hub
- Write an interesting description (directly below the title in the HP editor) - Using calls to action and active language like 'Find out more about' or 'Learn how to' can be effective
- Lower the bounce rate on your pages by linking to your other hubs
- Increase time on site by providing compelling, beautiful, easy to read content
- Use other media to enhance your topic


I hope that all of this helps and provides some food for thought. Please do add to it with any hints tips or insights that you have.