Oh my, julie51, you've just had an offer (to call Pearldiver "Susan" for a month) that will make you the envy of all of Hubberland!



I remember well what it was like when I was publishing my first Hub. It took me forever, because I knew absolutely nothing about online publishing before then. Honestly, after publishing just one or two, you will realize how simple HubPages has made everything here. A lot of people who publish in many places on the Web have commented on how user-friendly this is. But that doesn't always help with the first Hub.



And not today, especially. I don't know whether there is some glitch happening - they do happen from time to time here - but I had a hard time typing in the tag boxes a short while ago; and earlier today, there was a brief time when the site was down for some kind of work. It was very brief, only a few minutes, but that could indicate that there are some things going on that are making it harder to publish today than it usually is. Not so good for a rookie!

To summarize the steps (and add what I neglected before):

Click on Start a New Hub (at the top right of the page)

On that first page:

type in the title of your article in the correct box; (it's good to plan this ahead, because a good title can help draw traffic to your article)

check the automatically generated URL (web address), to see if it reflects the keywords you are using in your Hub; this URL can be changed now (just add or delete words in the box), but never after you leave this page, so now is the time to get it right; it does not have to be the same as the title, but both title and URL need to let people know what the Hub is about;

choose the topic from the choices that are available; this can be changed later;

choose the simplest layout to follow, since you said you will not have photos or videos (yet); they can be added later, if you wish;

add some "tags" - short descriptions, similar to keywords, that relate to your Hub; these are used within HubPages to show related Hubs on other Hubbers' articles; you must have at least two tags, but be sure you don't overdo it; for a 500-word article, maybe 5-8 would be a good number (that's just from me and completely unofficial);

click Continue; this takes you to a page that says "Quality Hubs Thrive"; (NOTE - it may be different for your first Hubs - I'm not certain); you may need to solve a Captcha, a squiggly-letter word puzzle intended to foil spammers; then click continue on this page;

You should now be on a page that says, at the top, Assemble Your Capsules. On that page, there will be a line that has the word "text" on it, and a button that is labeled Edit (circled in red below). Click on Edit, and that will open a Capsule where you can type in (or copy in) your material (second picture below). All you have to do is to click your cursor in the box to get started (just like a forum post or reply box). When you have finished, be sure to click Save.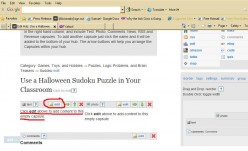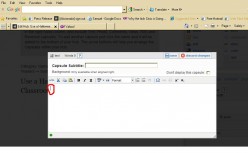 After you have entered all of the material, you may want to look at it by clicking on Preview at the top. To leave the Preview panel, click the X in the upper right-hand circle. Before you click Publish, check the section on the right. It's a good idea to write your own summary - 2-3 sentences that can show up on a Search Results page to tell searchers what your Hub is about and, we hope, encourage them to check out your Hub.

Finally, click Publish and you're done! Almost everything can be changed, revised, added to, etc., later - except the URL.