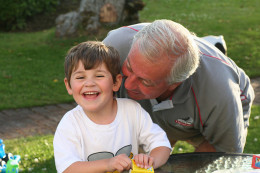 My grandson has called me Grandpa ever since he started talking. We live in different states so we're only together once a year for part of the summer. At age 6 1/2 he heard me say that his mother is my daughter. He was flabbergasted and asked

"My mom is your daughter?"

I guess no one ever explained to him just who grandparents are. I'll never forget the expression on his face when he asked "You mean you are my mom's father?"

CJ I went with a Catholic girl from out of town. One Christmas, she was at my house and wanted to go to a midnight mass. I wasn't any religion, so I called the nearest church and asked that very question. The Priest answered the phone and thought I was a prank caller and reamed me out as if I was put up to making the call.
We went to the mass and guess what. The priest, an old cranky guy to start with, got up and chastised the whole congregation for my phone call! Evidently young people in his church had a habit of jerking his chain and he went on how this has to stop. Meanwhile my girlfriend and I only knew he was referencing my phone call and I thought, this is what goes on at Catholic Churches?