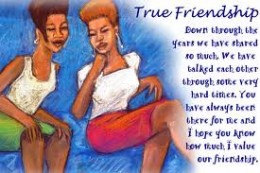 The definition of a friend is vast,I have many friends,classmates,former classmates,co-workers,club mates,etc=friends.

But a true friend,I have only a few.

A true friend feels you in spirit even when not around,then the phone rings.

A true friend will not allow you to hurt yourself,would not hurt you and wouldn't allow anyone to hurt you either.

A true friend is just that TRUE!