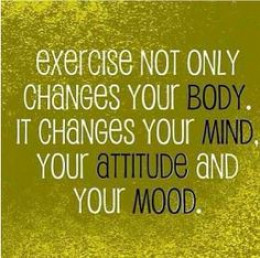 The most important thing is that your exercise becomes a habit. Choose a time of day you can stick with. If you have trouble with consistency, morning may be your best time to exercise. Personally I find it best getting up early every morning and running 10 times around the block. Then I push the block back under the bed and go back to sleep till noon.

"Research suggests in terms of performing a consistent exercise habit, individuals who exercise in the morning tend to do better," says Cedric Bryant, PhD, chief science officer with the American Council on Exercise in San Diego. "The thinking is that they get their exercise in before other time pressures interfere," Bryant says. "I usually exercise at 6 a.m., because no matter how well-intentioned I am, if I don't exercise in the morning, other things will squeeze it out."

Whatever time you choose you need to work out for at least a week because it will take your body time to get used to it, in the morning, then try noon, then early evening. Which do you enjoy most and which makes you feel best afterward? Also, consider the type of exercise, and other daily commitments.

Most of all, find a time that helps you make your exercise a regular, consistent part of your life which is more important than the time of day.
Secondly choose an exercise that will not be overly taxing at first.

I like to start with doing this (3 days a week works well!) You start out by standing outside the house with a 5 pound potato sack in each hand extending your arms straight out to your sides and holding them there as long as you can.

After a few weeks move up to 10 pound potato sacks, then 50 pound potato sacks and finally get to where you can lift a 100 pound potato sack in each hand and hold your arms straight out for more than a full minute!

Next, start putting a few potatoes in the sacks, but I would caution you not to overdo it at this level!