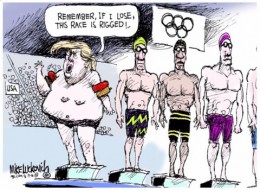 The election of Trump sucks, but it is only his fault in that he was able to tap into the dissent that already existed among us. I really think he was as surprised as anyone else. In my mind, there are two kinds of people who are the most to blame:

Disclaimer: I am well-aware that there are MANY people who actually CARED about their vote and put thought into it before voting for Trump. It is these 'majority' (below) that are the reason for him being in that office that I am irritated with...

1) Your basic racist, misogynistic, irresponsible, liberal & conservative uneducated MALE (and some female) troublemakers. It is their split PEERS who are protesting in the blue cities right now. Who are Portland protestors fighting? Don't even start to cry about this, and DON'T blame Veterans (come on!)... numbers of 'uneducated white men' were way off compared to women and other races voting for Trump; and they had as MUCH reason as anyone to be angry with him. And yet, many women and people of other races managed to find it within their hearts to vote for him. As a woman, THAT little tidbits hurts far more than Hillary losing.

2) Bernie supporters - also among the people who are protesting, now. Many voted for Trump. Many others are simply really mad at the Dems for screwing up and making them waste their vote on Hillary (who didn't win because of their complacency); and trying to manipulate things the way they did during the nominee election phase.

The sad thing is, the GOP tried to do the same thing with Trump, and failed. That didn't get reported on nearly as much, though. Trump's supporters pretty much chalked up every negative thing that was said about him as the media bullying him.

Our deep divisions are mostly religious ones - whether we want to admit it, or not. The GOP has this one chance because the Dems screwed up - not because Trump was a great choice. Watch him.

The upshot is, Trump IS capable of leading & thinking outside of the box. The downshot, he has yet to demonstrate that he can do that without his ego getting in the way. He really does act like your basic schoolyard bully; and that is what he inspires in his rabid supporters: hate, division, racism, misogyny. Guess what? Most of us are not listening to his 'we need to come together and unite' speeches. Trump will need to literally pull a political rabbit out of his hat before that will happen. I've already heard a news pundit suggest that another war would do that for him. WOOT!