First off, Ralph's claim that Obama did nothing is false. But it was likely taken straight from something Trump said, so that's understandable.
https://www.factcheck.org/2020/03/trump … emic-spin/

The reality is that the United States has screwed this up so far, but there is still time to avoid Italy's fate. One of our main failures has been our botched testing program. Put simply, the U.S. has scarcely tested anyone. It's hard for anyone to get a test, including frontline healthcare workers, some of whom have to be pulled out of service as a precaution, which in turn puts more strain on the system. The shortage of test kits in the eight weeks since the virus first arrived here was not unavoidable. We now know that early on, the Centers for Disease Control rejected a World Health Organization-approved test developed by German scientists, opting to develop their own—only to first come up with a flawed test.

The proof that we could have done better is that South Korea, which experienced its first case one day before the United States did on January 21, has played things very differently.

Around the time that the United States had tested 11,000 people total, South Korea was testing 10,000 a day. By March 4, according to Eric Topol, the South Koreans were testing 18,000 people a day. The population over there is around 51 million. In the United States, it's 327 million. That comes out to 125 tests for every million Americans, which places the U.S. behind Greece and the Czech Republic. Again: these two countries ran into this problem at almost exactly the same time.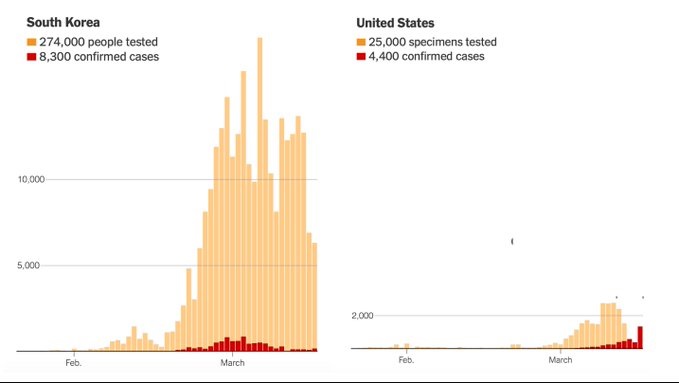 This is not a pretty picture for the administration run by one Donald J. Trump, who spent the lion's share of that eight-week period downplaying the threat, musing the virus could disappear miraculously, suggesting people were going to work after contracting the virus and it was no big deal, and continually declaring we were on the cusp of having a vaccine available to the public.

None of this was true, and none of it was helpful, and none of it was the kind of thing coming out of governments—like South Korea's, or Hong Kong's, or Singapore's—that have managed this crisis well. Instead of test kits and ventilators and masks, however, we manufactured bullshit. Less than a week ago, Trumpworld would not commit to cancelling future rallies—exactly the kind of large gathering public health experts had been saying should be called off.