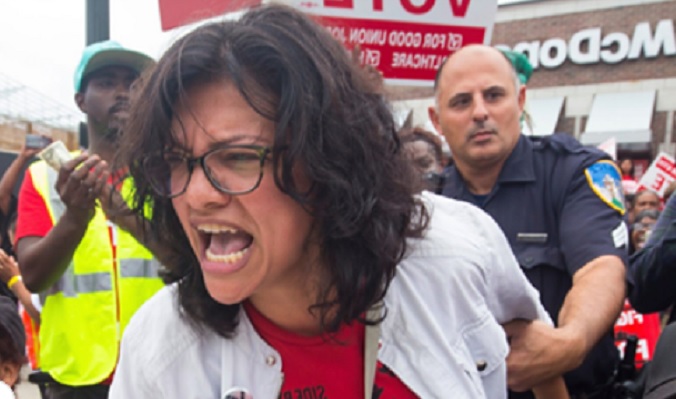 Michigan Democrat Rashida Tlaib calls for the end of US policing she says is 'intentionally racist'.

First, let's consider why Taib made came to her conclusion that America just does not need law enforcement. Her out-spoken view came after a Police officer shot and killed a black man by the name of Daunte Wright while attempting to arrest him for an outstanding warrant. He was pulled over for having expired tags on his car and it was ascertained to have an outstanding warrant for his arrest.

The officer who shot Mr. Wright was described as a senior member of the force. The Released body camera footage shows the officer yelling "Taser," three times. The officer claims the shooting was "accidental. Claiming while struggling with Wright meant to grab a Taser but instead grabbed her gun, and fired. Wright then drove off, crashed, his car, and died. The incident is being investigated, and the 25-year veteran officer is on leave.

Squad member and progressive Michigan Democrat Rashida Tlaib alleged in a Twitter post on Monday night that the death of Daunte Wright "wasn't an accident" as she appeared to call for an end of policing.

Tlaib indicated in a tweet that the police system should be ended because it could not be reformed as it is "inherently [and] intentionally racist." The progressive lawmaker also appeared to equate policing with "government-funded murder."

The Tweet --- It wasn't an accident. Policing in our country is inherently & intentionally racist.

Daunte Wright was met with aggression & violence. I am done with those who condone government-funded murder.

No more policing, incarceration, and militarization. It can't be reformed.
7:05 PM · Apr 12, 2021

Before any investigation, it appears Tlaib has pretty much come to the conclusion the officer is guilty, and that the incident was a "murder", and that we just do not have a need for law enforcement at all.

I have no respect for this form of thinking. I find Tlaib nothing but a pot-stirrer always attempting to use race as her spoon.

So questions --- Do you hope to see the police or law enforcement abolished as this dizzy nut job?

Do you feel Democrats in Washington frequently use race to politic at the expense of minorities?

Do you feel Tlaib should have waited before calling Mr. Wright's insinuating Mr. Wright's death was murder? "Daunte Wright was met with aggression & violence. I am done with those who condone government-funded murder. "

Come on people, where the hell has common sense gone. Is this the kind of representation we want in Government?