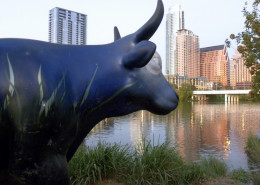 Austin Texas made the "Best Of List" in the US. With over 75 rankings.

Just to mention a few Rankings --- #1 Best Big City for Jobs (Forbes, May 2012), Top 10 City for Tech Startups in US (USA Today, August 2012), Top 10 Best Places to Retire (CBS News, February 2012),Top 5 City for Healthiest Housing in 2013 (Trulia, December 2012),No. 7 Home Price Jump in Nation (Federal Housing Finance Agency, December 2012), 2nd Best Investment Market in US (Realtor.com, March 2012).

Austin Texas is also known as the Live Music Capital of the world.

Austin is relatively easy to get around, they have beautiful hiking, walking, biking trails. Fantastic restaurants, culture and live music events.

I live and work in Austin Texas, and have lived in many cities while my father was in the Military. I proud to call Austin Texas my home.