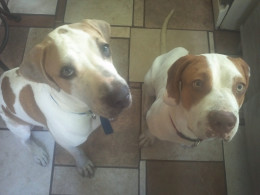 Absolutely, positively, and without a doubt one of many abilities that we so readily ignore or don't appreciate.

Dogs, horses, cats, and most other animals have an uncanny ability to see, predict, and sense events, spirits, and auras that most of will never understand or give them credit for. Just look at the use of dogs now for epileptics to warn them of oncoming seizures, or horses and cows when they gather in a pasture long before a storm is coming. They are used now in hospitals, for therapy, autistic children, etc., etc., etc.. There is that undeniable ability to sense those that are not of good intentions and those that have a loving heart.

I have been a dog, horse, along with just about any other animal you can think of owner most of my life, and love them as I believe my creator intended. I now have hound dogs whose sense of smell and auras is greater than I have ever seen. They are my family and all to often have made me wonder what they are looking or talking to when on three acres, there is nothing to be seen or heard.

Maybe someday we will learn to love and appreciate the many unbelievable ways they could improve our lives and stop the abuse so readily given, but never deserved.