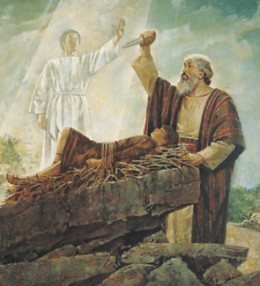 I have seen references to Abraham here but the one thing no one has mentioned here is that God told Abraham not just to murder Issac but to sacrifice him on the alter as a burnt offering. "Then God said, "Take your son, your only son, whom you love, Isaac, and go to the region of Moriah. Sacrifice him there as a burnt offering on a mountain I will show you." Later Issac asks Abraham "The fire and wood are here," Isaac said, "but where is the lamb for the burnt offering?" Abraham answered, "God himself will provide the lamb for the burnt offering, my son." And the two of them went on together.

Abraham knew in his heart God would not let him kill Isaac, because Abraham knew God, Abraham knew from experience he could trust God, and Abraham knew that God had promised him offspring through Isaac, so this gave him reason to believe that God did not intend for Isaac to die permanently. God's command to Abraham was not wrong, for God has the right to take human life and therefore had the right to command Isaac's death. Abraham had known God for many years prior to this, so he knew God's character and knew that God had the right to give this command. Had Abraham initiated the sacrifice or followed an order not authorized by God, then his act would have been wrong.

So to answer the question "If God DIRECTLY told you to kill your first child and you knew it was Him, would you do it?" you really need to understand there is more to "you knew it was him". How you know it was him and knowing exactly who "Him" is is necessary, otherwise this question can mean different things to different people. If you are referencing the Biblical account of Abraham and Isaac in your answer it is clear God was not simply ordering a believer to kill his son for no reason and would never do that.

Why then would God command this? The point was for Abraham to demonstrate that he trusted God completely and placed him above all else, even his own son. Though God of course already knew that Abraham had faith in him, it was necessary for Abraham to prove it through action. "His faith was made complete by what he did" (James 2:21-23). Because of his actions, not only God but Abraham, his family and future generations knew that Abraham trusted God.

So, no one need ever wonder if God would tell them to kill their own child. Abraham and his account is history, it will not be replayed to satisfy a Hub Page Q&A, God's Son has come and was sacrificed for our sins, God's purpose has been fulfilled!