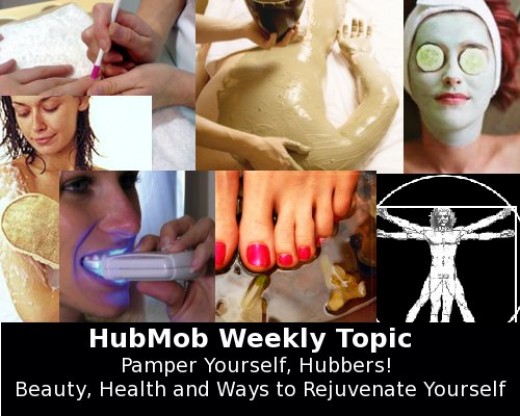 As the hectic holiday season officially starts this week, the next few weeks are going to be filled with stress, traveling, not-so-great eating habits and time away from your normal, everyday routine. After the dust settles from the holidays and you finally have a little time for yourself, it might be a good idea to pamper yourself a bit. This is what this week's HubMob is all about - writing about the various ways to take some time to relax, repair and rejuvenate yourself. Whether this is a Hub about the various kinds of massage or about what to remember when you're getting a manicure, this HubMob is all about how to take some time for yourself and the many ways to give your body a little bit of a boost.

To join this week's HubMob, please follow the steps below:

1. Come up with an amazing idea to write your Hub on that has something to do with the topic of Pamper Yourself, Hubbers! Beauty, Health and Ways to Rejuvenate Yourself. Make the topic your own and feel free to have fun with it, research it or wing it. It's up to you on how you write your HubMob Hub.

2. After you come up with your topic idea, click this link and answer the Request that I entered in for all of you HubMobsters. Feel free to use the tags that I suggested or add a few of your own.

3. Write a an awesomely comprehensive Hub that completely covers your topic idea. Be sure to add an RSS Capsule that includes the RSS feed to the rest of this week's HubMob entries (Link: http://hubpages.com/request/8685/best?new&rss) and also add one of the HubMob images below to your Hub so that everyone who reads it will know that it is part of the official HubMob topic of the week.






4. After you publish your HubMob Hub, reply in this Forum thread with a brief description of what topic idea you wrote about, why you chose it and a link to your newly published contribution to the HubMob. I mean, we all want to see, too!

5. Keep track of your Hub and keep us updated on any traffic that you're getting and post some screenshots if you end up HubMobbing a few search keyword over on Google.

6. Promote the HubMob by sending out this link to your friends, family and complete strangers http://HubPages.com/info/hubmob