That contrarian devil is still firmly rooted on my shoulder, here's a long one for you Ken.

I don't buy the `Russia is losing the war" claims that are coming from all directions. And I know that is contrary to real military experts, (besides just TV military experts), and apparent proof of real-time images. Oh well, I've been wrong before.

As you have said, it is the "big picture" that informs all other aspects and discussions, and that picture starts with the biggest question; what were Putin's goals for the invasion? Since Putin hasn't said, the world's answers are only speculation. Well-informed and considered speculation, but still speculation.

I think the speculation that Putin invaded because of NATO, and that he expected a quick, and possibly welcomed victory is wrong. It presented the wrong big picture. Some "experts' were even saying Putin expected a very short invasion—maybe 5-days to get Kyiv. Does anyone still think that Putin's goal was to stop NATO by conquering Ukraine?

For those that do, the apparent real facts on the ground support them. Consider the massive amount of military resources committed on so many different battlefronts; the dire effect on a weaker defense force diluted throughout the nation. Russia was wrecking Ukraine for weeks, and then, as the world's material support flooded in, Russia's advance was slowed, stalled, and then became a withdrawal.

The Western world wants Putin to fail, for the obvious `wrongness' of the act and the obvious humanitarian reasons, but more importantly, and generally unspoken, for the reason that a Putin win threatens their future security by making Russia stronger.

All the information we are being shown supports that big picture. The world needs Putin to fail so that is the current analysis being pushed.

I know that you know this, I mention it to show that is not the big picture I am looking at. I think the NATO angle is false, so the big picture painted from it has to be false also.

If my big picture is right, then the same things we are being shown to prove Putin is failing can also be interpreted to show that he is succeeding just as planned.

Miltary and economic losses had to be a cost Putin calculated as a price of success. Regardless of which "goal" is supported, that seems an acceptable fact. More than a few sources have described the best Russian forces as being on the eastern front, and the worst, (the conscripts), on the Western front.

The Western area military is the one failing, so the world is rejoicing and generally ignoring the success of the eastern military. Now, with Putin slowly "retreating" those western forces to the east, (to join up with the more experienced eastern forces), will almost certainly join in the final few battles around the Mariupol area to finish that landbridge holding.

If you remember my "big picture", that Putin's real goal was to grab Ukraine's Black Sea resources and create a landbridge from Crimea to Russia, (and wreck greater Ukraine in the process), than what we are being told and shown is just false hope.

Even Russia is adding paint to your big picture:

"Russia's Defense Ministry said its military had secured Solodke, a town in the Donetsk region, as Ukraine urged civilians to leave. The country's eastern area, as well as parts of the Kharkiv region, braced for a new Russian offensive. Moscow is mobilizing troops to expand its control over Donbas, following their withdrawal from Ukraine's north and towns around the capital, Kyiv."

Consider my big picture with this Apr. 4, status map.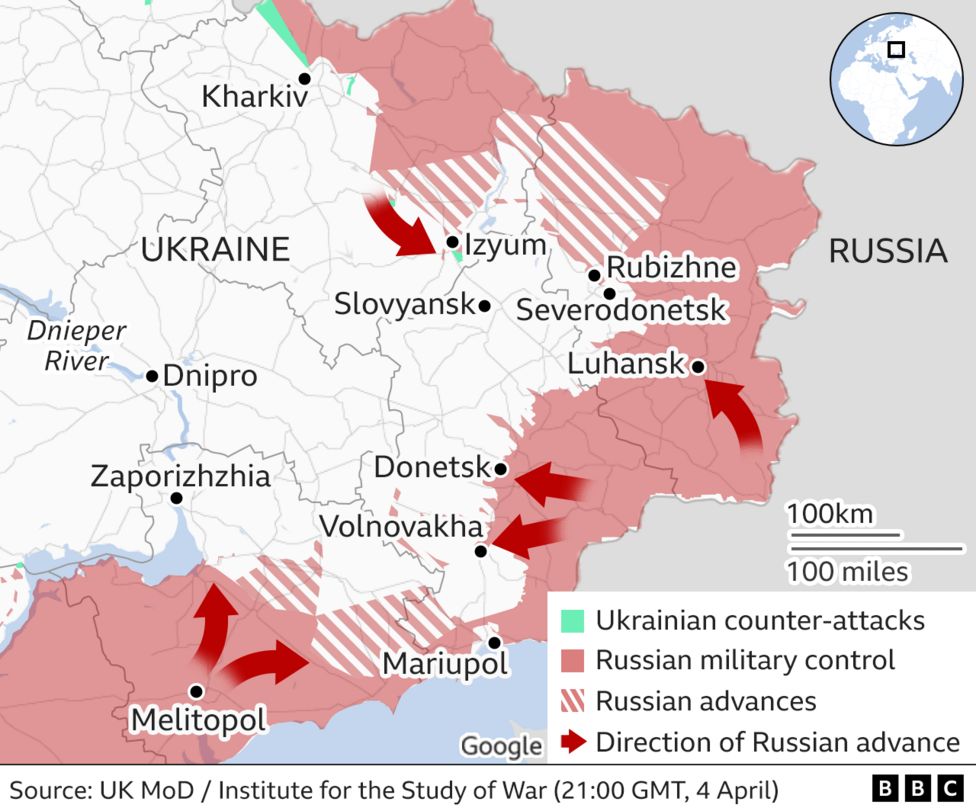 Putin doesn't want greater Ukraine. He doesn't want the burden of rebuilding Ukraine or the burden of governing it. He doesn't need them. He needs the economic and landbridge goals. Now that control of that landbridge is almost secured, Putin has the tragedy of a wrecked Ukraine as a reason to `submit' to being forced to the negotiating table. But will he be a victor or a defeated tyrant?

Will the negotiations give in to his landbridge demand in exchange for an armistice, for peace? If they do, (and many trail ballons on that idea have been floated recently), what has Putin lost, and what has he gained?

He has lost a lot of Russian lives, put Russia if the position of a pariah state, and suffered great economic costs. I believe those costs were anticipated and planned for, he doesn't value the lost lives and considers the economic and prestige losses as temporary.

What has he "won"?

He has stolen three-quarters of Ukraine's potential national energy resources which will make Russia the future dominant oil and gas producer of the eastern world. He will hold even stronger energy dominance over Europe. And, he will impoverish Ukraine by stealing its future economic potential. He will make the West shoulder the cost of rebuilding Ukraine.

He has established the landbridge with control of the entire eastern breakaway regions, and will likely proceed to `officially' annex them into `Mother' Russia, creating a physical Russian landmass, (including cementing his claim to Crimea), to Black Sea access.

I posted this scenario 5 weeks ago, the events of the past week seem to fit into it.

GA