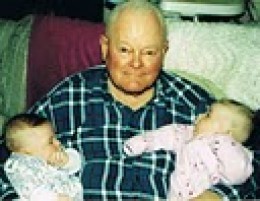 My dad and I are definitely close. I am his only daughter, his only child. It took my parents 10 years to conceive so they had a lot of time to plan. My parents are divorced, my mom got remarried, and I am close to them as well. But, my dad and I are closer. He's the one who has been there for me always. He is my rock and the stability in my life (not trying to copy you cocopreme -- just feel exactly the same way). He has always been there for me and has just been the best dad and friend. I'm starting to tear up thinking about it.

My dad is getting up there in years now, he'll be 83 in September. He walks three miles a day and is still very active and healthy. Sometimes he calls me 10 times in one day and it sometimes drives me nuts, but when the phone doesn't ring, I wonder why he's not calling.

I can't expect him to live forever, but at least another 15 years, because I don't know what I'm going to do when my dad is gone.

Here is a picture of my dad with my twin daughters in 2002. Proud Grandpa. I think I'll do a hub on my dad now. Love you dad.