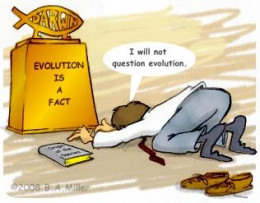 It takes faith to believe either and frankly I don't have enough faith to believe evolution which scientifically doesn't even qualify as a theory. Although some Christians have attacked evolution as "just a theory," that would be raising Darwin's idea to a level it doesn't deserve.

Two problems prevent anyone from legitimately calling evolution a theory. First, there's no direct, observable experiment that can ever be performed. Scientists can measure bones, study mutations, decode DNA, and notice similarities in morphology (the form and structure of animals and plants), but they can never test evolutionary events in the past.

Some point to natural selection as a form of "evolution in action," but natural selection can only act upon the genetic potential that already exists. What we do observe from natural selection fits perfectly with a recent creation and does not point to common descent.

Secondly, and related to the above, evolution misses the mark as a theory because all the supposed "tests" to confirm Darwinism do not necessarily and distinctively correspond to the idea. In other words, each has an alternate and equally viable explanation. A theory requires that the confirming experiments correspond to one specific hypothesis. Otherwise, the experiment cannot establish legitimacy. Evolution has no such legitimacy.

Evolution, at its core, is a necessary requirement of naturalism. Since naturalists cannot allow a higher power, they must rely on a form of spontaneous generation and the unguided development of life. Either someone or something created, or nature created itself.

Because naturalism depends on this assumption, evolution artificially carries the weight of a theory for naturalists—without meeting the requirements. Evolution has been grafted in simply out of the desire to deny the Creator or to deny His power and authority.

Ultimately, we have no need for a theory about the origin of life and the universe. God, our Creator, gave us a perfect, factual account of how and when He created, and how humanity came to be. While we can—and should—study His universe, He graciously provided the proper framework to truly understand—the Bible.

Evolutionary ideas are simply one way in which humans seek to deny God's authority. In fact, all of us have rebelled from Him and deserve death. But because of His great love, God provided a means of being rescued through His Son, Jesus Christ, so that we may be made right with Him again.

Both can't be right.