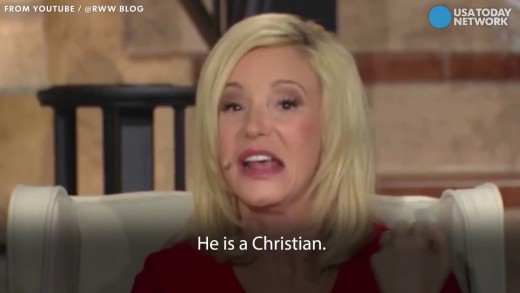 This is a really good question for Christians... Why was Obama erroneously-labeled the anti-christ; while a man like Trump is considered to be 'called' and appointed by God?

Ps 21:1 "The king's heart is in the hand of the Lord, as the rivers of water: he turneth it whithersoever he will."

Romans 13:1 "Let every soul be subject to the governing authorities. For there is no authority except from God, and the authorities that exist are appointed by God."

Jn 19:11 "Jesus answered [Pontius Pilate],"You could have no power at all against Me unless it had been given you from above."

Recently, religiously-conservative Christian mega-pastor, Paula White, an old Florida friend of Trump & currently a religious advisor to him (AND a woman who also had an 'inappropriate relationship' with fellow mega-pastor, Benny Hinn) - came out in a big way to defend Trump being raised up 'by the hand of God' in the style of Queen Esther - and how Christians, especially, should support him against unprecidented reactions NEVER before seen against a potus.

Afterwards, Roland Martin, an established journalist with a master's degree in Christian communications slammed back hard to help put things back into perspective for her. You can search for both videos on YouTube, Martin's push back is titled, 'Roland Martin To Paula White: Be A Prophetic Voice And Don't Just Be A Profitable Voice'

Here are a few splashes from his remarks:

"This is what the Lord, the God of Israel, says: I brought Israel up out of Egypt, and I delivered you from the power of Egypt and all the kingdoms that oppressed you. But, you have now rejected your God, who saved you out of all your disasters and calamities. And you have said, 'No, appoint a king over us.' So now, present yourselves before the Lord by your tribes and clans.' That's when the Prophet Samuel anointed Saul because the PEOPLE wanted a king.

You have the audacity to ask how any man could withstand what Donald Trump has gone through… How about eight years of what Barak Obama went through when the same person you praise questioned his Christianity, questioned his faith and dared to present the birther movement, as somehow he was not a full American? That was an outright lie, but you stood with that man.

The same man who said he would grab women by the vagina, the same man who said he would force himself upon women to kiss them when he wanted. The same man who chastised Senator John McCain who was a P.O.W. The same man who chastised Mexicans and called them rapists and criminals. The same man who has not shown at all, how to act like, sound like, or be a Christian.

Here is the reality, Pastor Paula White… We are going to pray for this president because we have evil in the White House. We have somebody who wants to attack people of color, attack the poor, attack Muslims and break up families. You dare say no one else has come under this kind of attack, please explain to me why so many white evangelicals like yourself have been quiet...

God called for the prophetic to stand up to question people in power and challenge them. Let me remind you of the Prophet Samuel who went to Saul and told him he was doing wrong and advised him that he had gone against the commandments of God. … And, the Prophet Nathan who went to David and told him he had sinned against God by laying with Bathsheba."

So, the question is... Why are the candidates Conservatives vote for 'of God' while every other candidate is considered to be (literally) evil (like Hillary, she is also heavily-portrayed as 'evil', not just a 'bad politician')? Its a really good question; and those of us who are completely flabbergasted by the thinking of so many good, well-intentioned Christian people - would LOVE an explanation.

Be careful how you respond... I am a former evangelical Christian & right-wing Conservative, reformed into a Moderate or Centrist mindset. I know my bible, as well as typical 'conservative' thinking surrounding it from decades back (check out my 1st spotlight hub if you doubt that, LoL!).