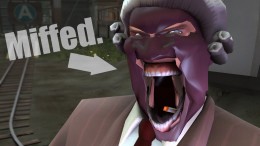 Miffed? No just telling it like it is. Man I must say I am surprised to see you using liberal playbook tactics even before starting a discussion. Your question I am sure was your reaction, triggered at least in part, by my confronting your opinion that because the Bible doesn't use the word abortion it has nothing to say about abortion, which is totally untrue and when I pointed out your error YOU got so miffed you posed this Q&A solely to get back at me and/or smear all Christians at the same time. You obviously have some issue going on here that goes beyond whether or not the Bible is just a book and not inspired of God (frankly the same problems most atheists have). The Bible is actually THE Word of God and there will come a day when everybody will have to reckon with that.

https://www.youtube.com/watch?v=HhT4kFyFEeg

You've said you have read the Bible. I don't believe you have read the entire Bible but if you have just reading it gives you absolutely no authority to declare that it isn't what it, the book itself, claims it to be, the truth, the inspired word of God given to man (according to God's ways, which are not man's ways). I'm sure you'd agree there are many books, books which are not of a supernatural nature that I'm sure you could read and not understand a thing in them. That is because those books need to be studied, even then you would need instruction from outside sources, teachers or experts to understand them. You can't read a book and become a brain surgeon. How much more is it necessary for fallen sinful man to have helpers to understand a book written by the holy, infinite, omniscient and omnipresent creator of the universe?

To understand that you first have to know him, to understand (what you are capable of) His nature, His purpose and His will. If He is who He says he is in His Word would He not, out of love for His creation, us created in his image, provide us a road map to who he is, who we are, why we are here and how to live and be saved? Saved from what you ask? From ourselves, our sin and death. It's up to us to follow it.

It is not hard to conclude to understand the creator of the universe, of you, you need to study the Bible, to get instruction from those who have gone before you often having spent their lives studying thew Bible but most important you need the Holy Spirit to guide you, to help you to see the truth. That's why He has provided pastors & teachers.

The Bible says you cannot understand or begin to know God if you don't believe that He is. "And without faith it is impossible to please God, because anyone who comes to him must believe that he exists and that he rewards those who earnestly seek him."

So if you approach the Bible as a skeptic and do not believe that he exists you are prejudiced against the very author of the Bible. Do you think that the creator of the universe and all that is in it is incapable of providing His Word through inspired men of God for us to know all that we need to know. If you do then you do not believe in even the possibility of a creator, and then u are truly lost.