Seems to me this is all that atheists are about. Being superior, being righter than Gods word, being better than the christian.
Atheists have no morals. It appears they do and they will insist they do, but in actual fact, depending on the circumstance, their morals are on a sliding scale. There is nothing to prevent; ripping somebody off, they will never love their enemies, They will grit their teeth and count their expenses if they ever put forth a dinner for the poor.
It is only a goodly set of circumstances that make the atheist a nice person, for truly, none of them are nice in the christian forums. There niceness depends on the smiling faces of their daughters as they come home from school with A's. Let one come home with a fail grade and all hell will break loose, although i am sure they will tell you how diplomatic they are in instructing the child lovingly, lol, Or let someone call them an idiot some drunken night and a fight will break out. Let them find a wallet and perhaps, but there is no guarantee, they will give it back, intact, that would depend on the amount of money and how far ahead it would get them.
There is no higher power governing their lives and they are free to do as they want; to insult people, to call someones belief idiotic and they are not even obliged to back it up with some empirical evidence. The general attitude is that of, "I say this (one liner) and it is true". They hate the bible yet they spend hours in the forums yelling, demeaning and coming short of swearing at believers, not because they are good people or even moral, but because that would be a personal attack and a christian might report them, so hubpages moderators keep them in line and not their superior morals.



Atheist are truly problematic. They burst into an internet room of studying christians and yell "I see a problem here", we look up from our books and are forced to deal with you. But will they do that to a church in progress or a study time in the afternoon? No. The internet emboldens them to be tyrannical and rude, and intrusive, absolutely.
I am fully convinced if anybody is killing children in africa it is atheists and not christians. sad, very sad. And if anybody is feeding the starving children in africa it is christians and NOT atheists.
I see no moral superiority, NONE.
They have no clue about any facet of the bible at all. All is inferences and self absorbed conjectures based on information that is decades old. They blame christianity today for actions 600 plus years ago.. lol.. how desperate to show moral superiority.
Nope i see no moral anyoritiy at all. NONE.
Here is a sample of atheist text
Yippeeeeeee !!! a licence to sin and sin again and again - no wonder so many child and woman abusers are religious fools, but that is ok because they have been forgiven, again and again and again.
Such rubbish. This is hatred without direction, not forum decorum. An atheist trying to start a war.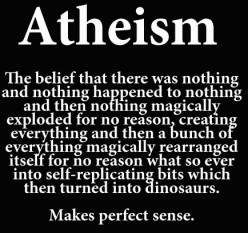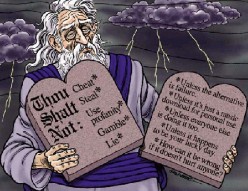 You asked.