Your post and article could benefit from some accurate facts. I looked at the exit polling data from 6 news organizations, Fox, CNN, NBC, USA Today, Washington Post, and NY Times. There was practically no disagreement with the findings, except for a handful of discrepancies of +/- 1% which I assume is a rounding issue. See below.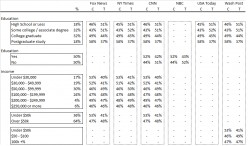 Your statement, "In reality, 55% of college voters went for Trump"
- No, Trump received either 42% or 43% of college educated voters, while Hillary received 52%. For voters without a college education, Trump received either 51% or 52% while Hillary received 44%. When the polling data was broken into smaller segments, Trump was 51% high school or less, 51% some college/associates, 44% college graduate, and 37% postgraduate.

"...the average income of Trump voters was/is $72,000 per year."
- Cited directly from your article.
First, I hope you understand how a median measurement is much more reliable than an average, which is vulnerable to outliers. For example, if you have a group of 20 people, 19 of which earn $40k each, and 1 person who earned $5 million, the average income is $288k. Anyone who is citing average is a tourist at best and more likely trying to mislead readers.

Second, in the article which discusses voter incomes, the problems begin in the first line. "Two-thirds of voters making less than $50,000 yearly voted for Clinton". In a rare case of Fox News and CNN agreeing on something, Hillary received 53% of the voters with incomes under $50k. Much more interesting is from the Washington Post, where incomes over $100k were split evenly, 47% to each Clinton and Trump. Where Trump won out was the $50k - $100k segment. Your article's second sentence, "Trump's voters skew wealthy" is sadly, without any factual basis. I'll just go ahead and say it, you're reading fake news.

Third, and frankly, the funniest part. Right after your article said $72,000 a year, it then made three amazing statements.
1. "It's surpassingly unlikely..." is hardly a follow up to a specific average income
2. "We don't have solid data..."
3. "...but we can infer..."

I'll check out your other "statistics", but I have a feeling they will be laughable as well.