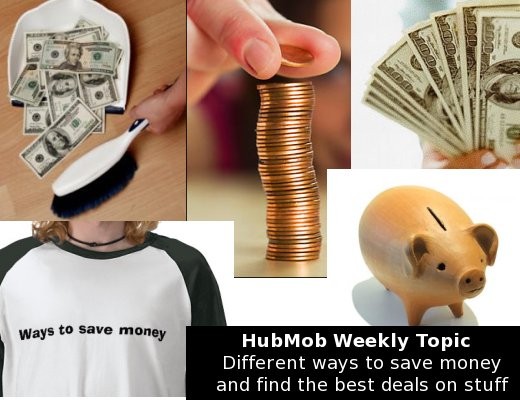 Ahhh yes Hubbers, yet another wonderful week here on HubPages, which means that it's time for yet another super-exciting and awesomely-amazing HubMob topic to get us all fired up for Hubbing. This week I decided to pull out a topic that a lot of people are thinking about right now - Different ways to save money and find the best deals on stuff. So, whether you know ways to get a killer deal on finding a cheap MP3 player online or have some tips on getting more out of a tank of gas, this week's HubMob is focused on helping people save themselves some serious green.

As always, feel free to write your Hub on any topic that relates to saving some people some cash and if you need any help coming up with a topic, just let us know - we're more than happy to help you out.



To join this week's HubMob, please follow the steps below:

1. Come up with an amazing idea to write your Hub on that has something to do with the topic of saving people money or finding great deals on stuff. Make the topic your own and feel free to have fun with it, research it or wing it. It's up to you on how you write your HubMob Hub.

2. After you come up with your topic idea, click this link and answer the Request that I entered in for all of you HubMobsters. Feel free to use the tags that I suggested or add a few of your own.

3. Write a an awesomely comprehensive Hub that completely covers your topic idea. Be sure to add an RSS Capsule that includes the RSS feed to the rest of this week's HubMob entries (Link: http://hubpages.com/request/8300/best?new&rss) and also add one of the HubMob images below to your Hub so that everyone who reads it will know that it is part of the official HubMob topic of the week.






4. After you publish your HubMob Hub, reply in this Forum thread with a brief description of what topic idea you wrote about, why you chose it and a link to your newly published contribution to the HubMob. I mean, we all want to see, too!

5. Keep track of your Hub and keep us updated on any traffic that you're getting and post some screenshots if you end up HubMobbing a few search keyword over on Google.

6. Promote the HubMob by sending out this link to your friends, family and complete strangers http://HubPages.com/info/hubmob