Great discussion going on here, guys - perfect timing, too...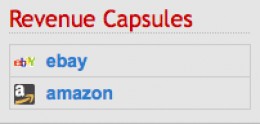 I just wrote this blog post on the value of adding Ebay and Amazon Capsules to your product-related Hubs over here in our blog. As you'll see in the diagram, Ebay is nearly paying out twice as much from a revenue per click standpoint. Also, December is always a HUGE month for these revenue capsules, so be sure to utilize them when you can!



Here is the diagram that shows revenue per click by month - the left, light blue column is Amazon and the purple-ish column on the right is Ebay.