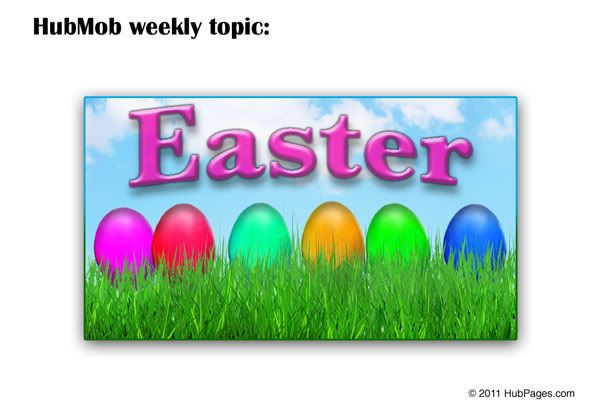 Good Monday Hubbers, I hope you had a great weekend. For me it has been a
sunny and warm weekend, which is very much welcome after the long winter
that we had. Being as nice as it was I couldn't help myself and had to
have a "gardening weekend" preparing the garden for spring fun and Easter
egg hunts.
Isn't it amazing how time passes so fast and we are again at
that time of the year?



I always like to write and read about Easter because it is such a rich
festivity that you always learn something new. My memories from my first
Easter celebrations take me back to South America and the deep religious
content of Easter, starting with heavy-hearted religious festivities and
ending with colourful parades; an ambiance that I only encountered again
in Spain and its Easter celebrations. Nowadays, I see Easter differently.
Where I live now, Easter is a happy festival where children enjoy
egg-hunting and craft-making during this period and families take the
opportunity to meet and have spring lunches. And you... How is Easter in
your part of the world? Do you celebrate Easter? Do you talk about its
meaning to your children? Do you just wait for the Easter break to go
away on holidays? Come on, this is the week to tell us about how do you
celebrate Easter.

To join this week's HubMob please follow the steps below:

1. START YOUR HUB CLICKING THIS LINK. Choose the "Answer the Request" green button. Choose the "MAKE A HUB ABOUT IT" option.

2. Choose a relevant title for your Hub to get a good ranking in the search engines, AVOID starting your title with "Weekly HubMob"

3. Include the HubMob RSS Feed in your hub: http://hubpages.com/question/111986/hub … ew&rss

4. Add the HubMob graphic

5. Categorize your hub according to your topic.

6. After you publish your HubMob Hub, come back to the forum and post a link to your hub with a brief description of what you wrote about and why.

Thanks for taking part in the Weekly HubMob!