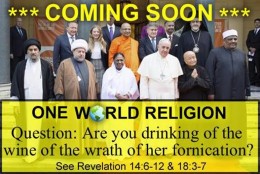 Honestly I am no sure, even at the point where we currently are as a human species, religion could never just be taken away. Humankind need something to believe in whether science, sports stars, celebrities, works made by man's hands, stories or fables passed down from generation-to-generation, or a Creator. However, it has been mention in the Bible, by Nostradamus, and other prophets who all state: "there will come a time where the 'Whole' World will have only 'One' Religion." A belief system where everyone, both great and small, free and bond, rich or poor will worship in this system. There will no exception to have another belief or religion, everyone will have only one choice. If anyone shall not agree, to them, they are put to death!

Whether we are aware of this now or not, the "One World Religion" is already being set up. The key players are all in agreement and pushing for this now! The one book most people will not regard or read is becoming more and more factual than any Modern-day News Source. If you want to know the state of this world, read Daniel, Revelation, Isaiah, and Ezekiel to see for yourself what is often transpiring right under most people's noses.

I am not afraid to admit to others my stand, I will not deny or refuse my Savior. I will also not force my beliefs onto anyone either, I will however share them. The confusion surrounding religion is this: "Religion is Manmade." Religion uses traditions (or Works) to show oneself approved to meet Eternity. No wonder so many are tired, frustrated and concerned with: "Will I make Eternity in Peace?!?"

Here what is simple, again I am not forcing anyone, just demonstrating simplicity. To come to Jesus, we simply confess with you mouth "Jesus is Lord", believe in your Heart that Father Jehovah God Raised Him from the dead and you will be Saved! Ask yourself, was that really too hard? This just simply took faith and faith is all it takes to please Jesus Christ and Father Jehovah God. If you want to come to Father God, we must go through Jesus to do so.

Is this really so hard and truth be told, to acknowledge Jesus. There is no religion involved, only Faith. Christianity is the name of the religion, this isn't needed to come to Jesus, only Faith and your desire to know Him, and spend time with Him. Jesus will hear you wherever you are, at home, at work, in jail, in the bathroom. Wherever, whenever, and whoever you are, we "All" can call upon the name of Jesus!

Take Care, Peace and Love to All!