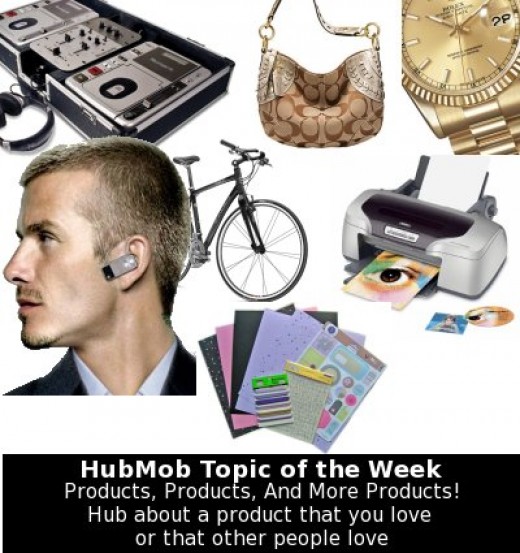 This week's HubMob has taken more of a consumer, money-spending, self-indulgent shift, which is totally OK with me. You see, this week's HubMob Topic of Products, Products And More Products! Hub about a product that you love or that other people love is designed to appeal to that inner mall-loving, electronic-buying, web-searching, credit card-swiper that's inside all of us. The thinking is, if you write a Hub about something that you love, then you're most likely also writing a Hub about something that other people love, too, which means that they're probably out there searching for it.

So, with this week's HubMob, you should pick some type of product that you love or that you know that other people love and create a Hub that will inform, educate, entertain and possibly persuade those people who read your Hub and help them decide whether or not the product(s) is for them. These Hubs should have better potential as revenue generators and you'll also find that they're pretty fun to write, too. One good example of a Hub that would be great for this HubMob topic would be the one that Mark wrote on Five Best iPhone Bluetooth headsets.

I was partly inspired to create this HubMob after reading DJ Funktual's Forum post that had him asking why he wasn't getting any revenue-generating traffic on his Hubs. One of the main reasons that many brought up was the fact that he should be writing more about the issues and products that he uses as a DJ as opposed to writing about pure entertainment topics. Hopefully this will be a good way for DJ, as well as other Hubbers, to get a better grasp on creating Hubs that are more revenue-friendly. So, pick some products, do a little research and get to Hubbing!

Oh, and be sure to have some fun.



To join this week's HubMob, please follow the steps below:

1. Come up with an amazing idea to write your Hub on that has something to do with the topic of products that you love. Make the topic your own and feel free to have fun with it, research it or wing it. It's up to you on how you write your HubMob Hub.

2. After you come up with your topic idea, click this link and answer the Request that I entered in for all of you HubMobsters. Feel free to use the tags that I suggested or add a few of your own.

3. Write a an awesomely comprehensive Hub that completely covers your topic idea. Be sure to add an RSS Capsule that includes the RSS feed to the rest of this week's HubMob entries (Link: http://hubpages.com/request/7915/best?rss) and also add one of the HubMob images below to your Hub so that everyone who reads it will know that it is part of the official HubMob topic of the week.






4. After you publish your HubMob Hub, reply in this Forum thread with a brief description of what topic idea you wrote about, why you chose it and a link to your newly published contribution to the HubMob. I mean, we all want to see, too!

5. Keep track of your Hub and keep us updated on any traffic that you're getting and post some screenshots if you end up HubMobbing a few search keyword over on Google.

6. Promote the HubMob by sending out this link to your friends, family and complete strangers http://HubPages.com/info/hubmob